Our Best Selling Pocketed Garter Bundle
The Underwraps® is a smart, sexy innovation in functional lingerie, made of two-way stretch microfiber with latex-free patented GentleFlex™ Grippers, invented and developed by celebrity beauty & style expert Andy Paige. It was more than 5 years in the making and involves at least 19 patents!
Underwraps® Bundle 2 for 1 Deal!
Regular price

$ 50.00

Sale price

$ 39.95
Customer service that cares
Fast & friendly USA shipping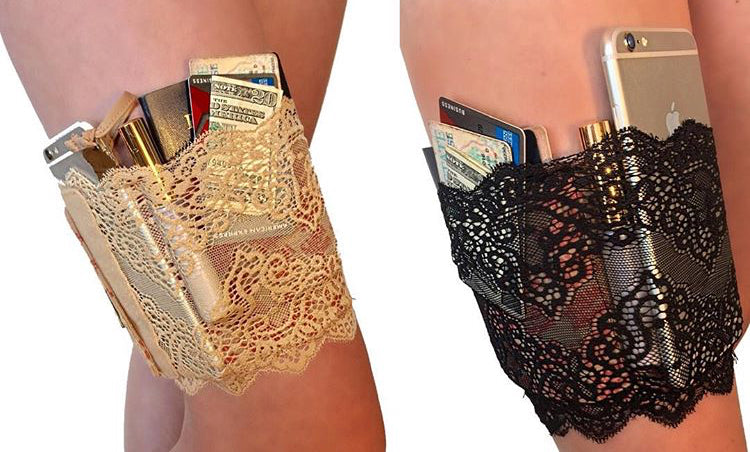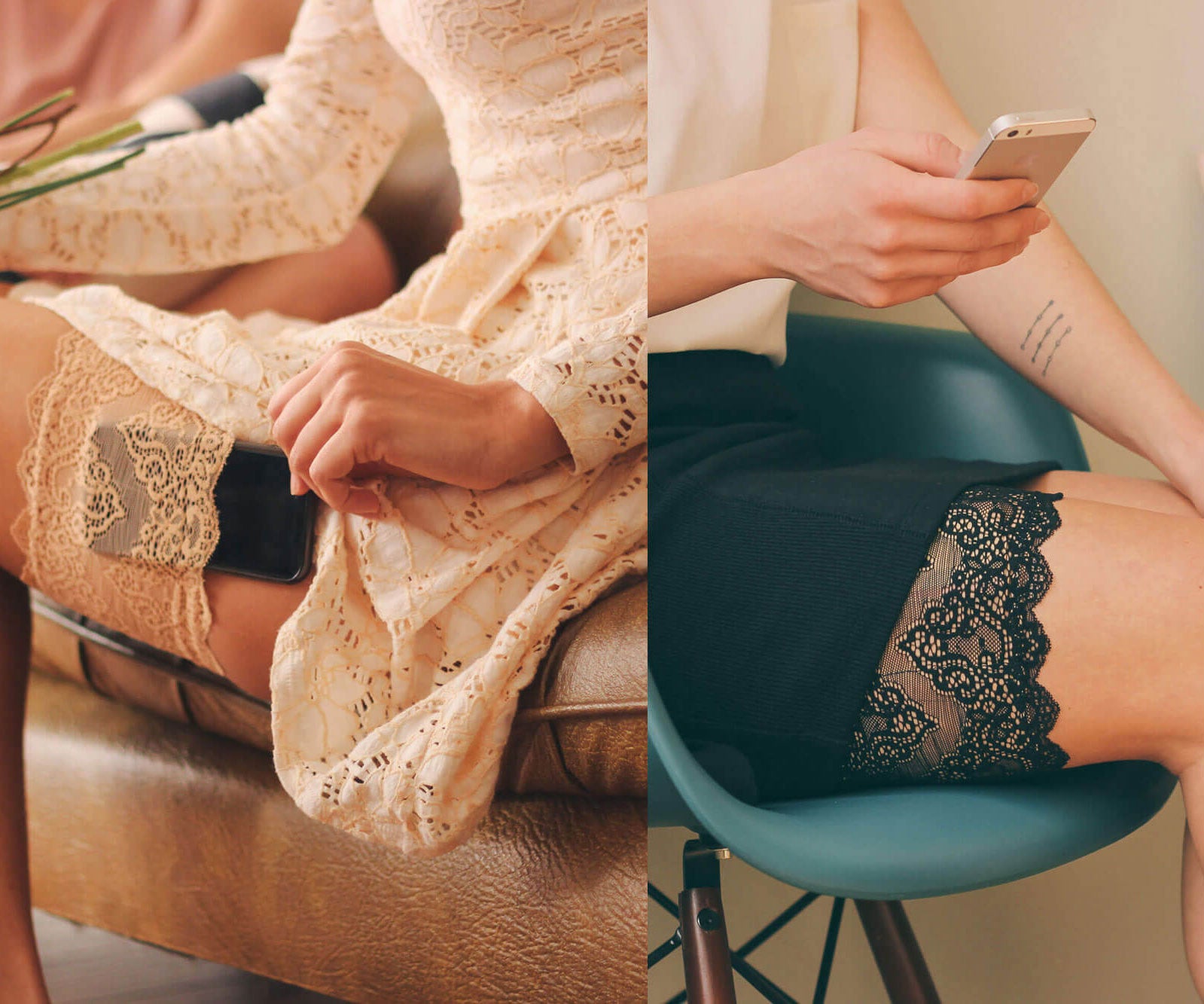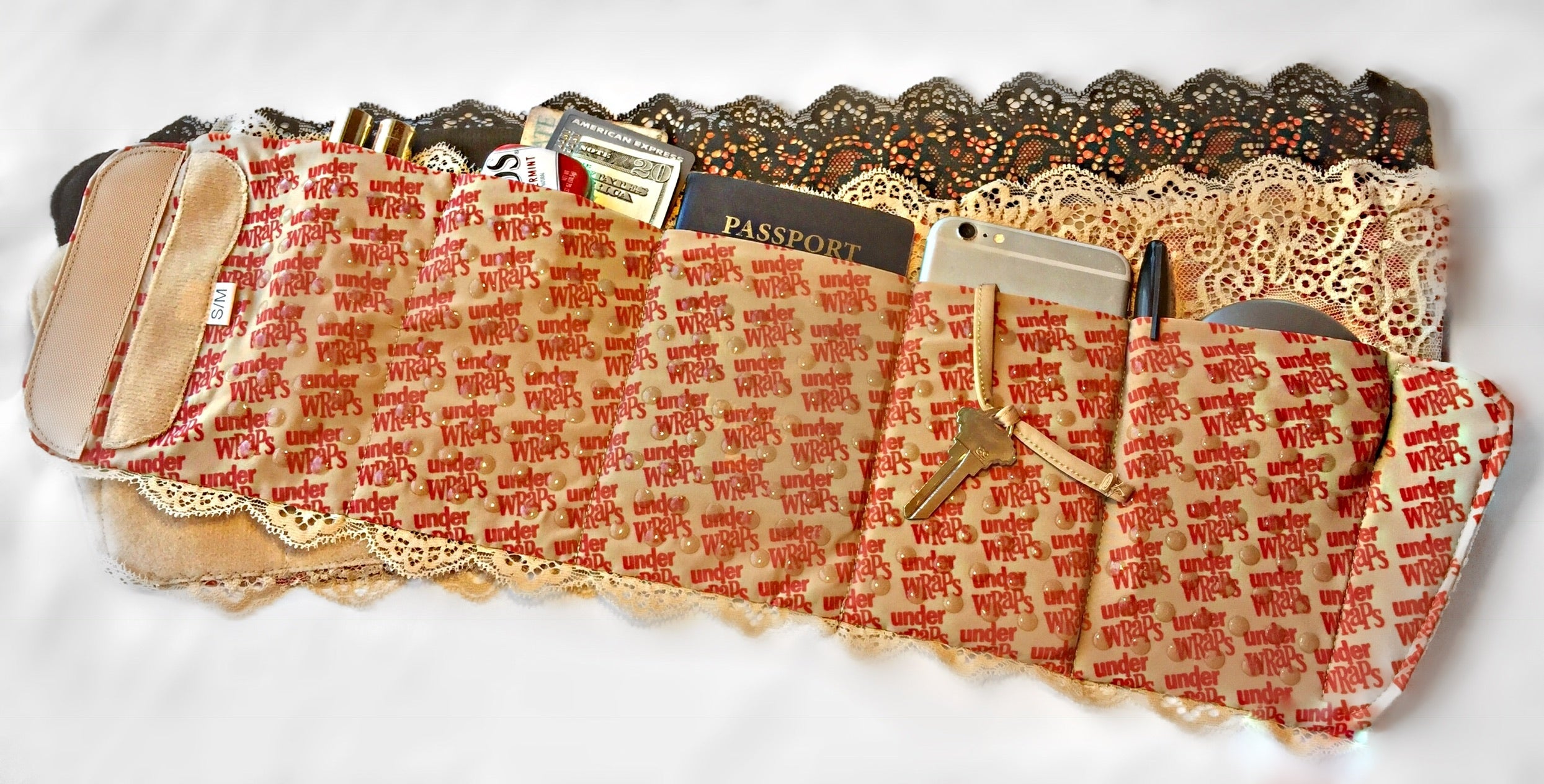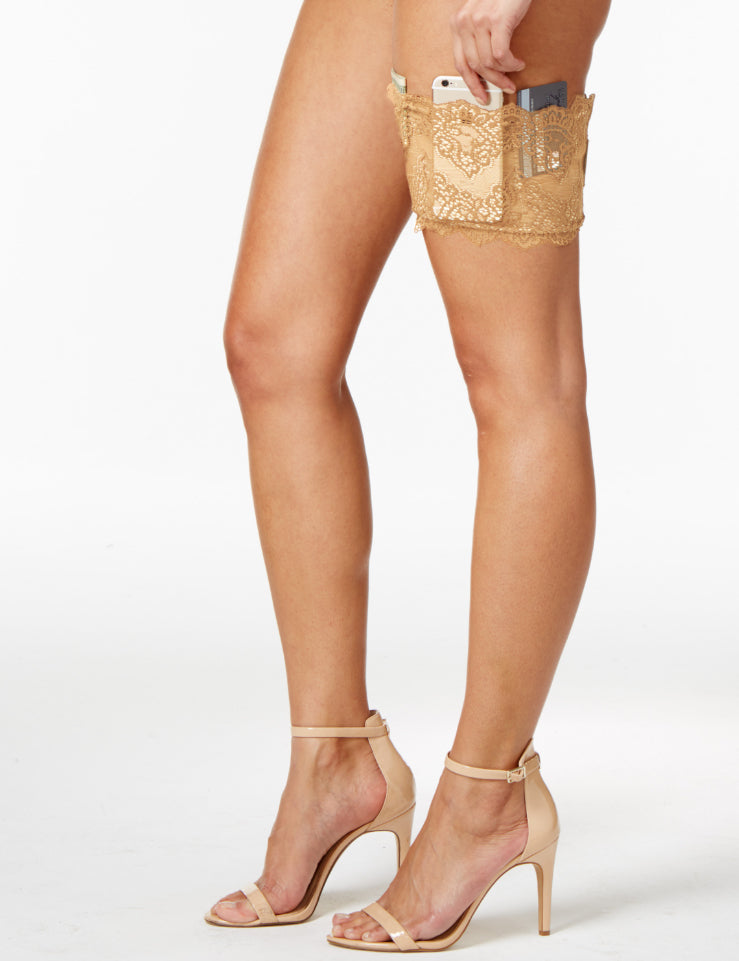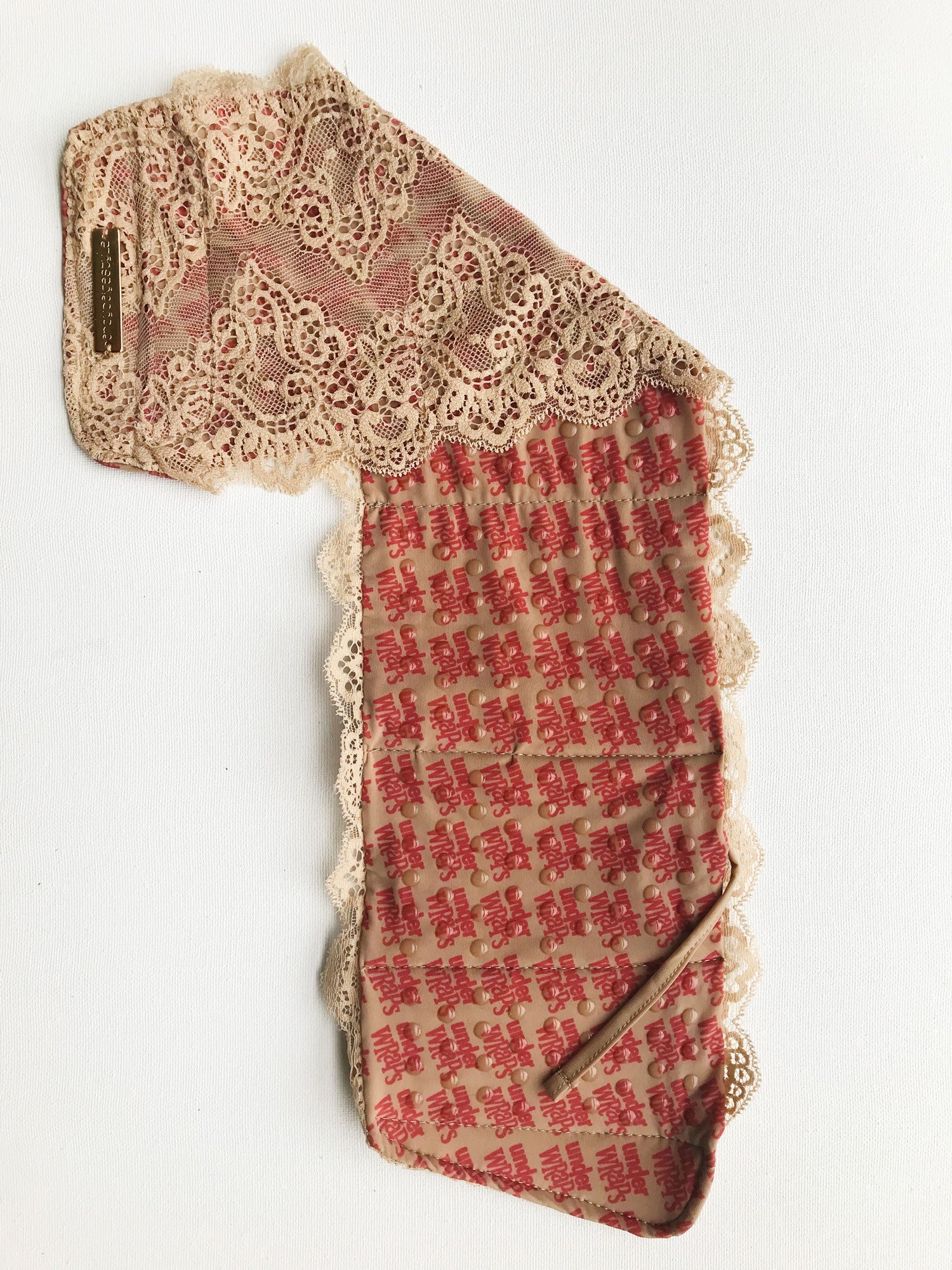 Sizing - All
The GirlyGoGarter® and GlitzyGoGarter® are designed to fit women's sizes 0-24. Our sizing is based on USA standard ladies' pants sizes. So, if you wear a size 10 in dress pants, you probably wear a size M GirlyGoGarter®. If you want to wear your garter higher on your thigh, you may need a larger size than if you choose to wear your garter closer to your knee.
The BEST way to make sure you get the correct size is to measure around your thigh at the location where you plan to wear the garter.
**If, after measuring, you're still unsure about your size, go smaller, as our garters need to stretch in order to grip.
GirlyGoGarter® Size
USA Ladies' Pants Size
~ Length
Small
0 - 6
14" / stretches to 23" (35 cm / 58 cm)
Medium
8 - 14
16" / stretches to 25"

(40 cm / 63 cm)

Large
16 - 24
22" / stretches to 33"

( 55 cm / 83 cm)
UNDERWRAPS® Sizing
Small-Medium fits U.S. women's pant sizes 0-8
Medium-Large fits U.S. women's pant sizes 8-16
Determine your pants size, and then decide where on your leg you want to wear the garter (lower = smaller, higher = larger).
A 2-for-1 bundle of our two most popular colors!

Underwraps® is a smart, sexy, lacey garter with pockets that adheres to your upper thigh with patented GentleFlex™ Grippers. There are two types of pockets on Underwraps® - easy access (on the outside, just within in lace) and lock-flap (on the inside against your thigh). Both types of pockets keep your money, I.D., lip gloss, mobile phone, keys, passport and all of your essentials safe, secure and right at your fingertips.
Washable and carries all your necessities.

Give every outfit pockets.

Perfect for weddings, parties, holidays, costumes, medical needs and more.

Features luxurious lingerie-quality lace, silky, moisture-wicking microfiber with patented

GentleFlex

™

Grippers
Velcro Closure
Stretches up to 4 inches - choose a smaller size to ensure a secure fit 
Used by celebrities, professional athletes, dancers, and women everywhere!
What's My Size?

UNDERWRAPS® Sizing

Small-Medium fits U.S. women's pant sizes 0-8

Medium-Large fits U.S. women's pant sizes 8-16

If you're not sure, go smaller - our garters stretch!
How Do I Wear It So It Doesn't Slip Down?

1. Put the garter on your clean, lotion-free, bare thigh (or over fishnet hosiery).

2. Stretch the garter snugly around your thigh and secure it with the Velcro at the back of your leg.

3. Load your necessities in the easy-access or lock-flap pockets.

DON'T DO THIS:

X Don't try to wear the garter over nylons, pantyhose or pants - it won't stay put unless it's gripping your bare skin.

X Don't put lotion on your leg before putting on the garter. Anything between the grippers and your clean, bare leg will cause the garter to slip down.

X Don't close the Velcro and then pull the garter up your leg like a stocking. It won't stay up unless you stretch the grippers around your thigh AND THEN attach the Velcro snugly.
How Do I Take Care Of It?

Lotions or oils on your skin can reduce the "stickiness" of our patented GentleFlex™ grippers. Simply wipe grippers with a cotton ball soaked in rubbing alcohol to return them to their original grip.

Underwraps® should be hand-washed and laid flat to dry ONLY.  NEVER put your garter in the dryer, as this will ruin the patented grippers.
Shipping

We ship all over the world, via USPS, FedEX, DHL, and UPS!

U.S.A.

If you select USPS as your shipping provider, please understand that the U.S. Post Office does not guarantee estimated ship times. Please allow up to 48 hours processing time before your items are shipped. These 1-2 days are in addition to the estimated days to delivery given by the shipping provider.

NOTICE: Shipping is taking longer than usual these days via ALL METHODS, so please keep that in mind when you place your order. Both the U.S. Postal Service and private carriers expect shipping delays right now. We'll get your items shipped as quickly as possible, but we unfortunately can't control how quickly shipping services can get your items to your doorstep. We've been getting reports of items marked as "delivered" 24-48 hours before they actually arrive. Again, we don't have control over this leg of the delivery (pardon the pun!), but if you don't receive your items within a few days of their delivery date, please let us know.

If you experience a long delay in shipping via UPS, please contact us within 30 days. UPS does not keep shipment tracking records past 30 days, so if you do not receive your shipment or your shipment is damaged, please contact Customer Service within 30 days, and we will be happy to take care of you.

USPS First Class is not trackable, insured or guaranteed. We cannot refund you if you select this option and do not receive your package. Use this shipping option at your own risk.

INTERNATIONAL

For orders outside North America, it may take up to 6 weeks to receive your order, depending on the customs procedures of the receiving country. We are not responsible for extra customs charges you are asked to pay by your home country. We do our best to help reduce the chance you will have to pay anything extra, but we cannot control what actually happens at your country's customs office.

DHL offers the most reliable and fastest international shipping and is the only option that is trackable after your package leaves the U.S.

USPS First Class International is not trackable, insured or guaranteed. We cannot refund you if you select this option and do not receive your package. Use this shipping option at your own risk.

INTERNATIONAL SHIPPING Time Estimates updated for COVID:

USPS First Class International: up to 8 weeks
UPS: within 4 weeks
FedEx: within 4 weeks
DHL: within 14 days
30-Day Money Back Guarantee & Return Policy

Returns, Exchanges, & 30-Day Money-Back Guarantee

Andy and all of us at Andy Paige Style are committed to providing the highest quality products and the best customer service around. Each of our garters is constructed with materials hand-picked by Andy for comfort, style, and durability. We want you to be 100% thrilled with your purchase. If you are not completely satisfied, we are happy to exchange your new, unworn, unwashed garter for another color or size, within 30 days of when you received it.

Our Holiday Return Policy is Here: Shop with confidence! Any purchase you make now until December 24, 2023, can be returned for any reason for a refund of the purchase price, minus the S&H until 1/31/24, or exchanged for a free replacement of the same item in a different color or size.

For customers within the continental USA:

Exchanges for a different color or size are FREE - we cover the return shipping!

Returns are also super-easy and just $4 with our pre-paid return shipping label (or you can ship the item back to us however you choose). If you use our pre-paid label, we'll deduct $4 from your refund when we receive your return in new condition.

Simply follow 3 steps:

Print out the Return/Exchange form and fill it out.
Include the completed form inside your exchange/return package.
Contact Customer Service, and we'll email you a pre-paid shipping label to affix to your package.

We will process your return or exchange within 3-5 business days, once your original garter is received.

For customers outside the continental USA:

Simply follow 3 steps:

Print out the Return/Exchange form and fill it out.
Include the completed form inside your exchange/return package.
Ship your return/exchange back to us, using whatever method you choose. Be aware that we are not responsible for your package if it is lost in the mail, so consider choosing a return shipping option that includes tracking and delivery confirmation.

We will process your return or exchange within 3-5 business days, once your original garter is received.

Further Information for all customers

If the garter shows signs of wear or damage you will be notified as to how best to handle the return shipping fees back to you.

If you require expedited shipping service for your exchange, please indicate that on the form. Shipping fees will be charged accordingly.

Please double-check all information on your form and write legibly. Do not email the form back to us - include it in your packaging only.

Contact us if you have any questions!
Patented Leg Gripping GentleFlex™

Skin sticking technology that grips better the longer you wear it!

Lingerie Quality Lace & Adjustable Velcro Sizing

Get the Perfect Fit Every Time.
The only garter that wraps around your leg for a fit that won't slip!

Two Types of Pockets

Easy access and lock-flap pockets that keep things safe and secure- Pick Pocket Proof to be exact!
Testimonials
So often I find my professional business attire without pockets. This is the perfect solution. Comfortable and durable while still allowing me to carry the necessities, the girly go garter is now a must have addition for my day to day attire.

Jana H.

I've tried other garters that are supposed to hold my phone. They fall down. This one doesn't, and it frankly looks so much better than the stuff you get on Amazon. You can tell it's well-made.

Maria A.

This product helped me so much with a place to put my insulin pump when I wear a dress. I used to just put it in my bra but it would always fall out. It also seems really well made. All in all, I'm really satisfied and would recommend this to anyone that needs to carry around some small things while wearing a dress!!!

Charlene B.

As an insulin pump wearer, I am thrilled! I started wearing dresses on a regular basis about 4 years ago and have been frustrated with what to do with my pump for all of those years. Now I have my go-to Go Garter. I am thrilled, thrilled, thrilled!

Julie S.

I love mine so much I've now gifted one each to 5 of my girlfriends! Great for moms who need to be hands free, football games, traveling in NYC or other busy locales... You need this in your life. You will love it! I am a 0-2 fit, and the small size is perfect. No complaints.

Stephanie C.

So far I love my garter. Bought for my wedding in October. Tried it out on a 2 mile run around neighborhood with keys and cell phone. Stayed in place. Already told multiple friends about it, as well as my wedding dress alteration shop.

Alexandra G.
Shop Small + Women Owned
30-day money back guarantee

Real, small-business customer service
Often Imitated, Never Replicated
The only patented and fully adjustable pocketed garter!
1. Carry Up To 2 Pounds

2. Wrap Once, No Slipping

3. Pockets That Work

4. A Size For Every Leg
Securely holds everything you need - phone, keys, cards, medical devices & more!
Our wrapping tech with patented GentleFlex™ grippers inside keeps your stuff safe, secure, and slip free!
Lock flap pockets and a key loop make sure nothing gets lost!
Fits up to Women's size 16. Use two (one on each leg) to prevent chafing!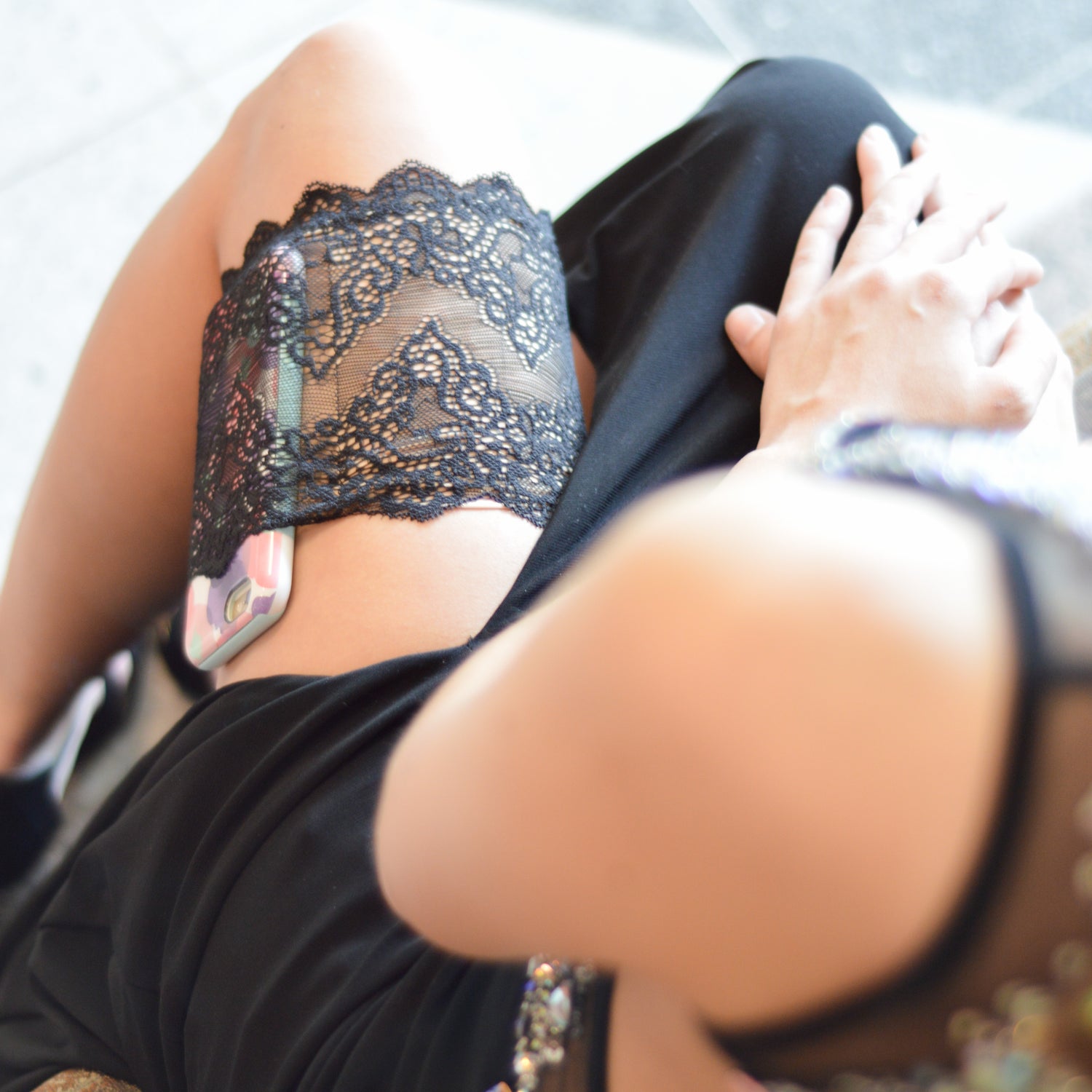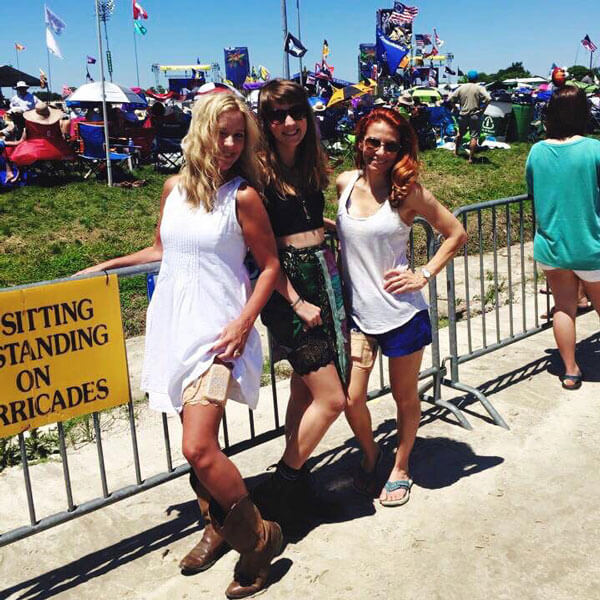 You Got This!
Prep Leg

Before you moisturize, apply the garter in the desired location.
Avoid moisturizing the area as it may cause the grippers to not adhere & slip.

Wrap

Don't worry about making it crazy tight. Our leg grippers will do all the work and keep the garter in place.

Load

Load and Carry On! Festivals, Concerts, Graduations, Weddings, Travel, Medical Needs, and More. It's the sexiest, easiest, and safest way to carry your stuff!
THEIR WORDS, NOT OURS
"A lace pocket garter with two rows of pockets to safely hold... pounds of your stuff. Your phone (yes, even big ones), ID, keys, and touch-up makeup will all stay secure while you tear it up on the dance floor in your favorite cocktail dress."
More than just a phone holder
Imagine keeping all your essentials close—right at your fingertips, in the most elegant way possible.

ABOUT THE BRAND
Andy Paige
CELEBRITY STYLE EXPERT -
TLC, STYLE NETWORK, & More
After 200 episodes of television wearing a hot mic pack attached to the back of my bra, strapped around my waist, hooked to my pants or falling out of my pockets, I started thinking that there must be better way to wear an audio transmitter. The crew of my latest TV show, TLC's Ten Years Younger, gave me a leg strap, but once I got hot and sweaty, down it went. That thing never stayed up.

While out training for a marathon after filming, I had the idea to cut up a moisture-wicking athletic shirt, attach some hook and eye closures from an old bra, and coat the contraption with hot glue for friction. That night I did a little sewing, and I tried it out the next day on set. Viola! It worked… until I got hot and sweaty and down it went. But my crude prototype did work much better than anything else I had tried. I knew I was on to something.

After 70 tradeshows, the GirlyGoGarter®, GlitzyGoGarter®, and UnderWraps® can be found in over 6,500 stores worldwide, including 4200 CVS stores here in the U.S.

 (Andy with our company icon - Dolly!)
Andy's Picks - clothing and accessories that pair perfectly with your garter!